TUINKANTOOR, TUINKAMER OF RECREATIEVERBLIJF
TUINKANTOOR, TUINKAMER OF RECREATIEVERBLIJF
Thuiswerken in comfort. Uw eigen plekje thuis, zonder afleiding en drukte om u heen. Een tuinkantoor wordt vaak uitgevoerd met veel lichtinval, waardoor u met een gezonde dosis zonlicht kunt werken. Een houten constructie in een groene omgeving geeft uw werkplek een extra dimensie. Wij denken graag met u mee om van uw tuinkantoor een comfortabele werkplek te maken, met al uw wensen en benodigdheden voorzien.
Een fijne leefomgeving in uw tuin. Dit kan een aanbouw tuinkamer zijn of een vrijstaande tuinkamer. Een tuinkamer wordt vaak gekozen wanneer er meer leefruimte gewenst is bij een huis, bijvoorbeeld een speelkamer of eetkamer. De mogelijkheden zijn oneindig. Contact het Kruispunt en deel uw wensen!
Even lekker ontspannen is heel belangrijk in onze drukke maatschappij. Met een recreatieverblijf van Het Kruispunt ontwerpt u uw eigen vakantieparadijs, waarin u heerlijk kunt genieten van uw kostbare vrije tijd. Wilt u "back-to-basic" of juist alle luxe die u zich maar kunt bedenken? Wij denken graag met u mee en ontwerpen zo de ideale vakantieplek: Uw eigen recreatieverblijf!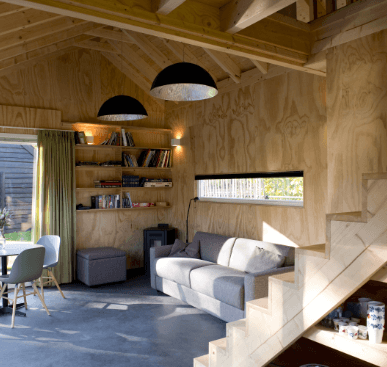 Uw gasten worden wakker in een gastenverblijf vlakbij uw eigen woning, maar toch heeft u allemaal voldoende privacy. Dat kan met een gastenverblijf van Het Kruispunt. Modern design of klassieke eenvoud. Wij gaan met u op zoek naar de perfecte sfeer, zodat zowel de binnenkant als de buitenkant van het gastenverblijf volledig voldoen aan uw wensen.